Our sheds for sale offer just the options and the solutions you are looking for in Morganton.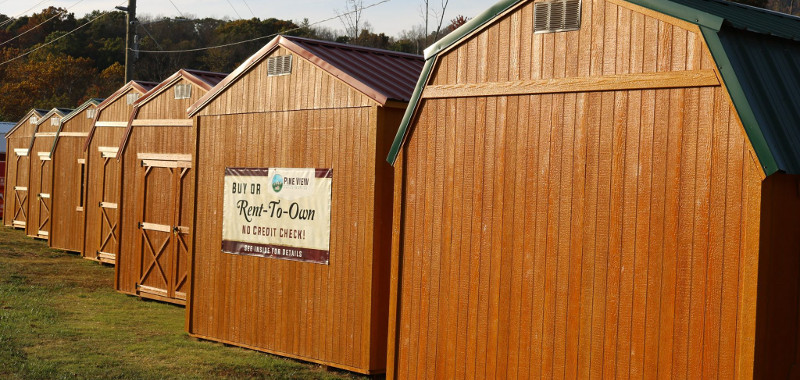 Have you been looking around at sheds for sale, but you just can't seem to find the one that really works for you? At Pine View Buildings, we believe you shouldn't have to settle for something that doesn't truly meet your needs, and that's why we offer a great selection of high-quality sheds for sale for your property in Morganton, North Carolina. Whether you need a garden shed, utility building, or a place to keep your tools, you'll find that we have just the options and the solutions you are looking for.
Convenient – When you are shopping sheds for sale, you don't have to go far to find just what you are looking for when you come to us first. We have sheds of all shapes, sizes and color, so you can truly find that one that works best. This makes shopping for sheds for sale more convenient than ever!
Affordable – If you really want to buy a shed, but you don't think it fits into your budget, ask us about our rent-to-own program, which makes the possibility of owning your utility building a reality.
Easy! – Once you've decided on one of our sheds for sale, we make the process of getting your shed to your home fast and easy by offering free delivery and installation services. That's right– once you've purchased your shed, we'll do the rest to make sure you get the best results.
Contact us at Pine View Buildings, or come by to view our selection of sheds for sale. We know you'll find exactly what you're looking for, and you may even want to inquire about our custom options for your property.
---
At Pine View Buildings, we offer sheds for sale to residents of Asheville, Swannanoa, Black Mountain, Morganton, and Leicester, North Carolina.